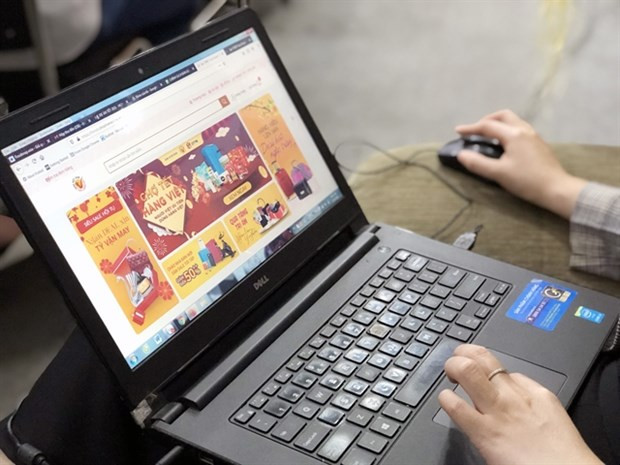 Property market faces liquidity, other severe problems: HoREA
The property market is "struggling and risks falling into a slump," Le Hoang Chau, chairman of the Ho Chi Minh City Real Estate Association, has warned.
Many companies are struggling to access bank credit, issue bonds and mobilise funds from customers, and are even resorting to selling their assets or products at large discounts or seeking risky loans at high interest rates, he said, adding that some have cut their payroll by up to 50%.
His association called for enabling developers and buyers of affordable housing to access credit more easily, especially trustworthy businesses among the former.
It also called on the Government and the National Assembly Standing Committee to consider subsidising loans given by the four Government-owned banks, BIDV, Vietcombank, Vietinbank, and Agribank, to buy or rent social housing.
It urged the Government and the State Bank of Vietnam to increase banks' credit quota by 2%, thus increasing the amount of credit available by 200 trillion VND (8 billion USD), to bolster the economy during the end of the year.
Chau also called for amendments to the 2013 Law on Land and related laws to foster the market.
FPT Retail to raise stake in Long Chau drugstore chain
FPT Digital Retail JSC, which trades its FRT shares on the Hochiminh Stock Exchange, has passed a plan to pour an additional VND225 billion into its affiliate FPT Long Chau Pharma JSC to raise its ownership in the latter.
After the capital contribution, FPT Retail will raise its stake in Long Chau to 89.83%, while the pharmaceutical company will see its charter capital increase to VND450 billion.
Between January and September, FPT Retail posted over VND21.7 trillion in revenue, up 55% year-on-year.
As of the end of September, FPT Retail had 745 FPT Shop outlets, while Long Chau operated 800 pharmacies nationwide.
Viet Nam outpaces countries in Asia regarding growth rate: WSJ
iet Nam will likely be among Asia's fastest growing economies next year, despite a weaker currency and falling foreign reserves, according to a recent article published in the Wall Street Journal (WSJ).
The author, Megha Mandavia, said that "Viet Nam is far ahead of the rest of Asia" regarding growth, US dollar reserves and monetary policy.
The article assessed that Viet Nam could get even trickier if the world slides into a recession. However, thanks to investments in infrastructure, aggressive trade liberalization and relatively cheap wages, its manufacturing engine remained intact.
Viet Nam also has the advantage of starting from an enviable growth position: roaring at 13.7 percent year on year in the third quarter of 2022 on the back of strong exports to the US.
Additionally, Viet Nam did not appear to be affected by the global food price storm as it is one of the leading rice producers and exporters globally. According to the author, after the tough years of 2020 and 2021, Viet Nam spent much of 2022 in the sweet spot, with still-low inflation and rapid growth.
Times will get a bit tougher now, but the country is poised for fast growth next year. Specifically, Natixis forecasted 6.5 percent, while Capital Economics expected more than 7 percent – and the weakening currency may help soften the blow from weaker export demand.
Vietnam promotes tourism at World Travel Market London
Vietnam's tourism has been promoted at the global travel and tourism event – World Travel Market (WTM), which is taking place in London from November 7-9.
The Vietnamese pavilion covers 250 sq.m, with the participation of localities and 23 leading travel firms and groups that are spreading the message "Live fully in Vietnam."
Previously, Vietnam had joined the exhibition for more than 10 consecutive years, except for 2020 and 2021 when the COVID-19 was ravaging, and gained successes in promoting its land, people of culture in the UK and Europe in general.
The event has offered an opportunity for Vietnamese travel firms to explore the market and expand their business.
Vietnam's labor market recovers at strong pace: HSBC
Following the border re-opening in March, the labor market in Viet Nam has recovered at a strong pace, according to the "Viet Nam at a glance: Levelling up the workforce" report released by HSBC.
The workforce and workforce participation rate reached 51.9 million and 68.7 percent, respectively, as of the end of the third quarter, continuing their upward trajectories since the lockdowns in the third quarter of 2021, read the report.
The unemployment rate stood at 2.28 percent in the third quarter, which was not seen since the onset of the COVID-19 pandemic.
HSBC noted that the resumption of broad economic activity in Viet Nam has subsequently led to improvements in labor market conditions, indicating that the domestic economy is well on its way to full strength.
The country's labor market also benefits from a "golden population structure", with the total dependency ratio under 50 percent since 2006.
The percentage of population ages 25 and over holding tertiary degree attainment was estimated to reach 10 percent in 2019.
Education is key to upgrading the labor market. Improving education and further investing in human capital has already been highlighted as one of the pillars for the government's socio-economic development strategy for 2021-2030, the HSBC recommended.
Official statistics showed that from approximately 28 million people in 1986, Viet Nam's labor force has increased to 51.9 million by the end of third quarter of 2022.
The percentage of trained laborers in 2015 was 49 percent, and rose to 67 percent in the first six months of this year.
The work of sending laborers to work abroad under contract has also produced a good performance.
There are more than 600,000 Vietnamese employees working in 40 countries and territories worldwide with stable income, sending home US$ 3.5 billion worth of remittances per year.
Commercial outsourcing: the rising trend in healthcare
Commercial outsourcing has become a popular trend in the regional healthcare industry regionally as companies are increasingly finding new and innovative routes to enhance cost-effectiveness and differentiate services.
According to the most recent survey of healthcare decision-makers in Asia by Bangkok-based research group Be Digital (powered by DKSH), titled "Route to Market: Commercial Outsourcing as a Business Growth Strategy for Healthcare in Asia Pacific", 69 per cent of respondents views outsourcing mainly as an opportunity to expand geographical coverage in some markets, 60 per cent would like to expand into new markets, and 50 per cent would consider outsourcing to drive sales of strategic products.
Three key services are considered by healthcare firms for outsourcing. The first involve pharmacy channels and, according to the survey, the role of pharmacists is expected to evolve beyond the basic services of merely providing prescription medicines.
The second includes medical channels. The coronavirus pandemic has pushed pharmaceutical products and medical devices into new territories as the demand for related medicines, test kits, and vaccines continues to grow.
To meet this rising demand, pharmaceutical companies and medical device manufacturers prefer to outsource their marketing activities to hospitals and clinics when entering or expanding into a market.
The third involves omnichannel e-commerce services. The coronavirus has led to growth in the e-commerce sector across most business sectors, especially in healthcare. According to the Healthcare eCommerce Global Market Report 2022 published by Report Linker, the global healthcare market grew from $261 billion in 2021 to over $309 billion in 2022. The market is expected to exceed $613 billion in 2026.
Binh Phuoc calls for investment from Italy
The People's Committee of southern Binh Phuoc province and Becamex IDC Corporation held a teleconference on November 8 to call for investment from Italian enterprises.
Italy is now the fourth biggest trade partner of Vietnam in the European Union. Meanwhile, Vietnam is the largest trade partner of Italy in the Association of Southeast Asian Nations (ASEAN), with two-way trade growing over the past years.
In the first eight months of 2022, two-way trade hit 4.25 billion USD, up 13.9% year on year. Of which, over 3 billion USD was Vietnam's exports, mostly footwear, coffee, aquatic products, apparel, and handicrafts. Vietnam mainly imported footwear, chemicals, machinery, transport vehicles, sanitary equipment, medical supplies, and household appliances from the European country.
Italy now ranks 34th out of 139 countries and territories investing in Vietnam with total registered capital of 409.46 million USD. So far, Binh Phuoc has attracted 366 foreign-invested projects worth 3.44 billion USD and has yet to attract any Italian investor, he said.
According to the official, Binh Phuoc is now home to 13 industrial zones covering a total area of over 6,000ha and occupancy rate of 53.5%.
SBG permitted to expand Quang Chau Industrial Park
Saigon – Bac Giang Industrial Park Corporation (SBG), a subsidiary of Kinh Bac City Development Holding Corporation, has just received approval to expand 90 hectares of Quang Chau Industrial Park.
The IP is located in Quang Chau commune, Viet Yen district, northern Bac Giang province, with investment capital of 996 billion VND (42 million USD).
The Quang Chau Industrial Park, invested by SBG, is one of the typical industrial parks of Bac Giang province, which is planned to invest and develop according to the model of a modern architectural complex including an industrial park, urban area, utility and service area.
The expansion will increase the industrial park from 426 hectares to 516 hectares. The existing industrial park of 426 hectares has been filled with 100% industrial land, attracting 41 investment projects, including 37 FDI projects, four domestic investment projects with a total investment capital of up to 2.8 billion USD, creating jobs for about 67,000 workers.
Typical large-scale investment projects are from Foxconn (with projects of member companies such as Fuhong, Fuyu, Fukang), Luxshare-ICT, JA Solar, Siflex, Samkwang, Crystal Martin, Lens.
The expansion phase with an area of more than 90 hectares, which has just been signed by the Prime Minister approving the investment policy for the project, has also attracted many large investors interested in surveying, registering to rent with high occupancy rate, reaching more than 90%.
Goods throughput at sea ports up 3% in 10 months
Vietnam's sea ports handled 608.3 million tonnes of goods in the first 10 months of this year, up 3% annually and fulfilling 84% of the yearly target, according to the Vietnam Marine Administration.

Of this, the volume of import-export goods decreased slightly while that of domestic ones grew by 4% year-on-year to 284.6 million tonnes, it said, adding the container throughput hit 20.8 million TEUs, increasing by 4% annually and meeting 84% of the yearly plan. Containers of imports constituted over 7.1 million TEUs of the total, posting the highest annual growth of 8%.
In the third quarter of this year, many seaport enterprises recorded profits despite many difficulties due to socio-economic fluctuations.
HCMC needs VND210 trillion to build six more metro lines
The HCMC Transport Department has sent a report to the municipal government on completing the urban railway system following the Transit Oriented Development (TOD) model.
As part of the department's plan, the urban railway system in HCMC will comprise eight axis routes connecting the city's downtown area. With a vision to 2035, the department proposed constructing six more metro lines with a total estimated cost of around VND210.76 trillion.
Currently, two metro lines — Ben Thanh-Suoi Tien and Ben Thanh-Tham Luong — are under construction in the city, with a total respective investment of VND43,700 billion and VND47,900 billion.
While the Ben Thanh-Suoi Tien Metro Line is 92.39% complete, the Ben Thanh-Tham Luong Metro Line has completed 85.49% of site clearance.
Besides, HCMC will develop more underground metro lines and monorail systems.
Petrolimex gas stations in Hanoi stay open 24/7
The Vietnam National Petroleum Group (Petrolimex), the nation's leading fuel trading company, has said it is keeping its all gas stations in Hanoi open 24/7 to meet the strong demand for gasoline.
From now until November 13, all 96 Petrolimex gas stations in Hanoi are open round the clock. Customers in need of refueling will be supported with a map of available stations on Petrolimex's website and mobile app.
According to Petrolimex, there has been a surge in the number of vehicles getting refilled at its gas stations recently, rising by 35-40% in early November compared to October.
As many parts of the nation are grappling with fuel shortages, many filling stations in Hanoi have been temporarily closed or only run perfunctorily, rationing gasoline worth VND30,000 for each motorcycle and VND500,000-600,000 per auto.
Petrolimex sold 10 million cubic meters of gasoline between January and September. The figure met 83% of the year's target and rose by 8% over the same period in 2021.
To meet the domestic demand, Petrolimex plans to distribute up to three million cubic meters of fuel in the fourth quarter, or 40% higher than required by the Ministry of Industry and Trade.
218 firms shortlisted as prestigious exporters of 2021
The Ministry of Industry and Trade has announced that 218 enterprises made it to the "Prestigious Exporters in 2021" shortlist.
These entities were selected from 287 enterprises in 27 sectors recommended as "Prestigious Exporters of 2021".
The shortlist is based on export turnover, business reputation with foreign partners and compliance with laws and regulations on taxes, customs and the environment.
Enterprises with export revenue lower than 85% of the required figure or seriously violating the regulations on taxes, customs and the environment were not qualified for the "Prestigious Exporters in 2021″ awards.
Many int'l flights expected to arrive in Phu Quoc
Many international flights will arrive in Phu Quoc Island off the Mekong Delta province of Kien Giang in the coming months, said a Phu Quoc international airport representative.
The airport on November 6 welcomed an LOT Polish Airlines flight from Warsaw, Poland, the local media reported.
This was the first flight that arrived in the island from the Polish capital, said the representative, adding that LOT Polish Airlines will operate 30 more flights between Warsaw and Phu Quoc from now until March 20 next year, using Boeing 787 aircraft with 252-294 seats each.
In early November, the Phu Quoc International Airport received an Uzbekistan Airways flight from Tashkent, with 172 passengers on board. This was also the first charter flight to Phu Quoc from Tashkent.
Uzbekistan Airways will continue to operate the Tashkent-Phu Quoc air route with a flight frequency every 9-10 days.
Industrial real estate sector maintains growth momentum
The growth prospect of the country's industrial real estate market is bright, with ample new supply in the third quarter of 2022.
The real estate market saw a substantial increase in supply between July and September due to the introduction of many new projects, according to the Housing and Real Estate Market Management Agency under the Ministry of Construction.
Occupancy of industrial land remains high, while the demand for industrial real estate rentals is expected to rise.
Particularly, industrial real estate has been offered to investors in many parts of the country, including the Son My Industrial Park in the coastal province of Binh Thuan and Soc Soc, Dong Anh and Phu Nghia industrial parks in Hanoi.
Each spans more than 300 hectares, with the Son My Industrial Park covering 1,070 hectares.
Industrial sector rental demand grew compared to the second quarter of the year, while rental prices jumped 5% over the same period.
The average occupancy rate in industrial zones stayed above 90% nationwide. The southern figures were slightly higher than those of the northern provinces.
According to data from the Ministry of Planning and Investment, the real estate industry placed second in foreign direct investment inflows with around US$3.5 billion, or 18.7% of the total.
G-bond coupons rise again
Coupons of 10-year and 15-year Government bonds have risen 100 and 80 basis points to 4% and 4.1% annually in both primary and secondary markets, respectively.
Data from the Hanoi Stock Exchange showed that 30 lots of G-bonds were auctioned in the primary market in October. Of the total, 10 were issued by the State Treasury and the remainder by the Vietnam Bank for Social Policies.
The value of bonds sold in the month amounted to VND31,450 billion, equivalent to a winning rate of 55.66%. The State Treasury had got over VND139,000 billion from bond sales in the year to October, hitting over a third of the full-year plan, while VBSP gained only VND12,300 billion and achieved 60.29% of the target.
Bonds with 10-year and 15-year tenors remain the bestsellers, accounting for 46% and 32% of the total bonds sold.
On the secondary market, G-bond transactions in October dropped 40% to nearly VND3,850 billion per session on average. Of the amount, outrights fell nearly 16.5%, while repos plunged 57.7%.
Pork imports may ebb away late this year
Vietnam's meat imports will not spike later this year, while pork imports are likely to decrease, the Ministry of Industry and Trade (MOIT) reported.
Data from the General Department of Vietnam Customs showed Vietnam imported over 191,000 tons of meat and meat products worth some US$417 million during the third quarter, up 4.4% in volume and 24.4% in value over the same period of 2021.
However, pork imports in the third quarter dropped by 24.4% in volume and 30.6% in value over last year, at over 31,700 tons valued at US$67 million.
The decrease resulted from the abundant supply of pork domestically, while imports of beef, poultry and buffalo meat were on the rise, MOIT said.
India took the lead with 37,350 tons valued at US$125.84 million, up 164.9% in volume and 180.7% in value year-on-year, followed by the U.S., Brazil, South Korea and Russia.
Ministry does normative cost calculation for price of petrol
The Ministry of Finance yesterday sent an official dispatch to the Ministry of Industry and Trade about the normative cost calculation of the base price of petrol which was proposed to apply from November 11.
The cost of transportation of gasoline from abroad to a Vietnamese port will be added to the basic price of gasoline. Specifically, the transportation cost of unleaded petrol for making E5RON92 gasoline will be VND640 a liter, an increase of VND290 a liter. it will be VND1,280 a liter for making RON95 gasoline, an increase of VND560 a liter.
Additionally, the transportation cost of unleaded petrol for mixing into 0.05S diesel oil will be VND730 per liter, increasing VN160 a liter; VND1,740 for mixing into kerosene, increasing VND660 per liter and VND1,290 per kg for producing fuel oil 180CST 3.5S, an increase of VND60 per kg.
For premiums made in the country, the cost of petrol transportation from the refinery to the port was maintained the same as per the Ministry of Finance based on reports of petroleum traders. On the other hand, these expenses were adjusted up on October 7 and will be continuously reviewed and evaluated periodically at the end of 2022, and announced to apply on January 10, 2023.
As for the normative business expenses, wholesale petrol and oil traders' reports have shown that out of 28 units that submitted performance reports, only two traders including Petroleum Corporation of Vietnam, and Nam Song Hau (South River) Petroleum Company reported an increase in business expenses for the first nine months of 2022. Two other companies Vietnam Oil Corporation and Anh Phat Company reported an increase in costs, but due to increased output, the average cost by output decreased.
Australia increases shrimp import from Vietnam
Australia's import of shrimp from Vietnam has surged this year while imports from Thailand and China have dropped, the Vietnam Association of Seafood Exporters and Producers (VASEP) said, citing data of the International Trade Center (ITC).
According to ITC data, Australia's import of Vietnamese shrimp increased by 51% in the first seven months of 2022. Processed products accounted for 40% of Vietnamese shrimp shipment to the Australian market.
The ITC said due to China's Zero-COVID policy, China's shrimp production faced difficulties, and output decreased, causing the country's shrimp exports to Australia to fall.
Moreover, Australian customers favour processed shrimp products while Thailand's processing level is not as high as Vietnam's.
Australia's total shrimp imports in the first seven months of this year were valued at nearly 234 million USD, up 29% over the same period last year.
PetroVietnam negotiates with Algeria for 2nd phase of oil & gas joint venture
A delegation of the Vietnam Oil and Gas Group (Petrovietnam) led by Chairman of Members' Council Hoang Quoc Vuong had a working session on November 7 with representatives from relevant agencies of Algeria to speed up the implementation of the second phase of a tripartite joint venture project at the Bir Seba field in the African country.
The joint venture of Petrovietnam Exploration Production Corporation (PVEP) under Petrovietnam, Thailand's PTT Exploration and Production Public Company and the national state-owned oil company of Algeria – Sonatrach Group was established in 2009 with total investment of 1.26 billion USD.
In the first phase, the Bir Seba field produces 20,000 barrels of oil per day. Since welcoming the first oil flow in August 2015, the project has pumped a total of 44.27 million barrels. It is considered a bright spot in the bilateral cooperation between Vietnam and Algeria.
The second stage of the joint venture project is expected to welcome the first oil flow in the first quarter of 2016, also with a design capacity of 20,000 barrels per day.
Source: VNA/SGT/VNS/VOV/Dtinews/SGGP/VGP/Hanoitimes